And the winner is……
The West Elm Globe Pendant!!!…..sorta
Thanks everyone for the lighting input. As of tomorrow we can shower like normal people. No more trekking to the gym for awkward showers. At least it got my a$$ to the gym, but then I came home and ate my weight in soda and chocolate so I think I was better off not going to the gym and eating healthier. Anyway, I really enjoyed your input and as much as I loved the Urban Electro Fixture, it was about $1,000 more than I intended to spend. I wanted to select a WOW factor pendant but changed my mind and decided a simpler fixture was the route to take. You are one stylish bunch because several of you chose that one too. After much pacing back and forth, weeks went by and I went with the West Elm one. BACKORDER! Wonderful. I knew this was a blessing in disguise, so I didn't get upset at myself for waiting so long to make the decision.  I visited my local lighting shop and ordered an (practically) identical one for about 40 bucks cheaper. Someone out there really loves me.
It'll be some time until I can share the finished product, but you wanna see what else I have on the agenda? I knew you would.
An Edison Bulb will go in the Pendant. So cool.
Subway tile. Clean, crisp and classic.
Our floor tile will look kinda like this honeycomb pattern.
Our walls will be painted in this Dunn-Edwards Sky Glass color. It looks a little more gray here, but in reality it has a hint of blue.
This is where I'm getting crazy with it. Ahhhh, look at me I'm crazy
. I'm having a frame custom-made to fit around our existing medicine cabinet and painting it in Dunn Edwards Often Orange. Our bedroom has splashes of orange so I'm trying to be consistent here. Continuity people! It'll be the one little pop of color in the room. Not that crazy, really.
Faucet.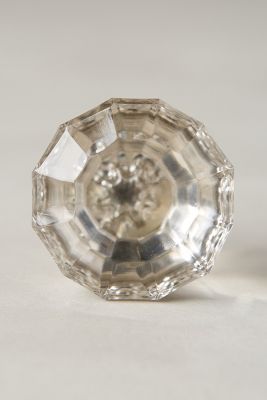 Clear knobs for our vanity
And then we come to another lighting dilemma. We need a fixture for over the vanity. I like these because they're both clear. The one on the left is a bit more contemporary and the one on the right has traditional elements. I'm planning on buying a chandelier similar in stile to the one on the right for our dining room, so that would be consistent once again. But is it too much for the space? The overall feel of the room is simplistic sans the "crazy" colored frame for the medicine cabinet. Would the two compete for attention?!? Or would it be less of a brawl with the one on the left. Help again!

We managed to lock ourselves out of this mess of a bathroom on reno day one and with all our might, damaged the door frame and broke the door handle. But look what prettiness will replace it.
Oh yeah, and my doggies says rawff ruff warf ruff wufff. I think that means thanks for stopping by.
– Irene Lovett