Until yesterday, our powder room looked like this:
Now it's completely empty.
Empty I tell ya.
Vanity – gone. Mirrors – gone. Toilet – pissed peaced out.
But yes, it's empty 'cause yesterday I got the green light to demo that ish and remodel it.
I could not have been more excited than if a genie came home and granted me three wishes.
This story goes back to this post.
And then went over the plan here.
But what you may not know is that this powder room connects to the laundry room (the scene of the crime), which connects to the kitchen. I want the new flooring to continue into three said rooms. The issue with that is, or was, that I was planning on getting rid of the bathroom vanity down the road, not now. If the vanity stayed, the tiling would only go up to the vanity. Once I decided to remove the vanity, the tiling gets screwed up because it gets cut off where the vanity used to be. Did I lose you? The contractor suggested ripping it all out at once so I don't have to worry about messing up the pattern and everything stays even. We can't have a half functional bathroom and we wanted to redo it at some point anyway, so it makes sense to just go at it now.
And I am stoked.
I'm thinking bold.
In your face wallpaper.
Maybe something cheeky and unexpected.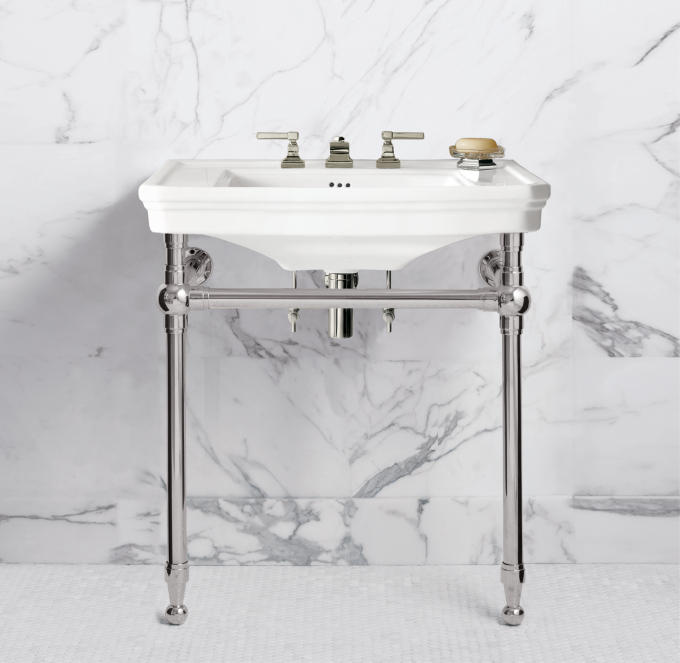 I really want one of these, but unless they made a cheaper one yesterday, a pedestal sink it is.
cute, yes?
getting rid of the vanity and having a pedestal sink means I'll still need some storage. I'm envisioning an etagere in a high gloss black.
A similar mirror but in a different shape will go over the sink.
Some sort of vintage pendant.
My challenge now is to find these items, locally and reasonably priced.
On your mark, get set, go!